Read the full presentation here, "Overvalued Software Products and Undervalued Analysts? The Value of a Great Analyst in Business Analytics"
I recently pondered the value of a great analyst to a mid-sized public company (revenues around $1-2 billion.)   Based on my experience at multiple companies, I estimate the productivity, typical project benefits, and costs of an average, good and great analyst. The differences in the return to a company are staggering with great analysts yielding double the ROI of a good analyst and triple the ROI of an average analyst!
My conservative estimates of analyst project results (annual value to the firm) are $460k for average analysts, $1.2m for good analysts and $3.1m for great analysts!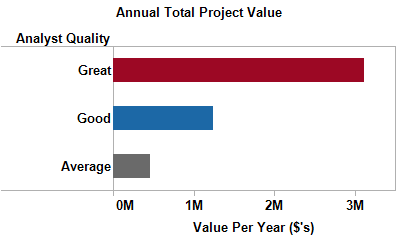 There are two primary drivers behind the much higher value produced by great analysts (illustrated in the following graph):