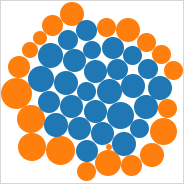 Stephen Few, noted visual analytics expert and the original inspiration for our work in the field, recently wrote about criticisms of best data visualizations practices. In particular, Amanda Cox of the New York Times said, "There's a strand of the data viz world that argues that everything could be a bar chart. That's possibly true but also possibly a world without joy." And Nathan Yau of Flowing Data wrote, "in visualization you eventually learn that there's more to the process than efficient graphical perception and avoidance of all things round. Design matters, no doubt, but your understanding of the data matters much more." These are both people who have a body of work that I admire but I am also surprised at these comments.
This discussion reminds me of a similar problem in marketing and web analytics. Generating traffic that leads to sales is good. Eventually, someone finds a way to generate traffic that leads to not many new sales, but management is misled to think this must be good since traffic leads to sales. This is similar to "look, this chart is beautiful", but hard to interpret or understand. So, while we delivered fun graphs, minimal information is shared. This may be good for traffic, but not so much for higher sales.
I suspect that part of this recent criticism can be traced back to Stephen's recent criticism of Tableau, "Tableau Veers from the Path". In it, he mentions a new graph type in Tableau, packed bubble charts and contrasts them with bar charts. This is an example of the "avoidance of all things circular". Is Stephen truly anti-joy@f16 Will an example show him to be wrong@f17 Let's give it a try and you can judge for yourself.
Here's a packed bubble chart example Continue reading →