Understand them, avoid them and correct them
December 23rd, 2013 — 11 AM Central, Noon Eastern, 9 AM Pacific, 5 PM London
Click here to register
Synopsis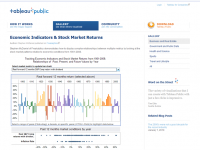 In this webinar, Stephen reviews common shortcomings and misunderstandings that can prevent effective use of Tableau. These issues can result in misleading or just plain wrong answers being presented to your analysis audience, most without any warning messages or signs.
This webinar is relevant for all experience levels of Tableau users. Attendance at this webinar is free, compliments of Freakalytics and their upcoming, in-person Chicago Workshop in late January, Data Management and Visual Analytics with Tableau. This webinar is planned to run 90 minutes, with the presentation approximately 70 minutes in length and 20 minutes planned for Q&A. Please use an affiliated e-mail address to receive an attendance link. 
About Freakalytics
Freakalytics offers two public and on-site training seminars on Tableau: Data Management and Visual Analytics with Tableau (2 days) and the original Complete Tableau Training (4 days), authored and taught exclusively by Freakalytics since 2009.
The Complete Tableau Training is the course that many early adopters of Tableau attended, both in public venues and on-site, and that Tableau endorsed in 2009, with Freakalytics as the founding Tableau Education Partner. Since Stephen left Tableau as Director of Analytics in 2013, we are now the world's leading provider of independent Tableau training expertise, able to objectively train and advise clients on how best to utilize Tableau in conjunction with other leading data visualization, data storage and analytic products.
Share the power of R shiny apps across the entire team with YakData
Subscribe and keep in touch with us!