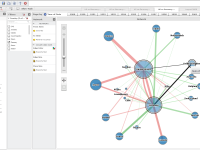 Microstrategy Analytics Desktop and Team Cloud
Overall BEST IN CLASS for one year
Overall BEST IN CLASS for three years
Desktop/Authoring Client
BEST IN CLASS for one year (tied)
BEST IN CLASS for three years (tied)
Free for commercial use in perpetuity
(this version is a web server and web client running on your desktop)
Personal cloud
BEST IN CLASS for one year (tied)
BEST IN CLASS for three years (tied)
Personal cloud usage included with free one user desktop client in perpetuity
Small team cloud
BEST IN CLASS for one year
BEST IN CLASS for three years
Free for one desktop user and ten cloud users in first year and in perpetuity
Highlights
+ Easy access to common data sources. In particular, easily analyze troublesome Excel data layouts (report style data) that aren't friendly in some of the other products in this review.
+ Depth of visualizations is quite impressive including visuals not found in most other products in this review. If analyzing flows between people or places is important, the network analytics possible with this application are quite flexible.
+ Very good at rapid data exploration as you can easily toggle through multiple data items in the same graph.
+ Powerful table calculations easily built for common analytic questions such as contribution to overall outcomes, contribution within groups, growth rates and similar analytics needs.
+ As the largest pure-play Business Intelligence vendor, this product is a good compliment for people at companies that use Microstrategy as their corporate BI platform.
Examples
Read the comparisons with other visual analytics offerings: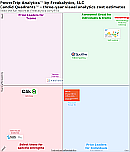 overall PowerTrip Analytics™ Candid Quadrants and
detailed PowerTrip Analytics™ pricing review tables.
© 2014 Freakalytics, LLC
All information used in this pricing review is derived from public sources and believed to be reliable for scenario comparison purposes as of March of 2014.
Actual pricing should be obtained through normal channels used by your organization.
No warranty is extended or implied by ratings, inclusion or exclusion of vendors/products in this presentation.
Vendors are sorted and rated by a composite score of one user, one user cloud, team cloud and per user cloud pricing.
Pricing is just one component that should be considered in selecting the right product for your needs.
Products used in pricing may be a subset of the fully-featured product for some products.
Do NOT confuse free evaluation copies with the products in this analysis.
Likewise, do NOT confuse free personal learning or "public" versions of products with products available for use in your company or for hire.
Please consult your legal advisor before selecting a product for your needs, software contracts can be many pages and quite difficult to decipher.
If you work for a vendor and believe there is an error in information for your product(s), please email us with corrections.
Note that Qlik appears to offer no vendor supported cloud hosting, YOU must setup a server and their software. AWS pricing estimates included.