Rapid Graphs with Tableau 8
The Original Guide for the Accidental Analyst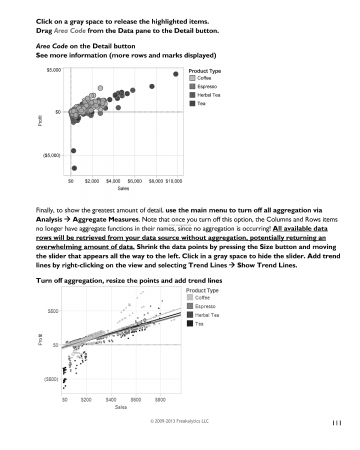 We are pleased to provide free access to our book for all site members. It is also available as a printed book on Amazon. The home page for this release is here.
In Chapter 6 (97-118)
Take over with Tableau—View structure,
Marks Card, Summaries,
Formatting and Titles-97
Customize views using the Columns,
Rows, Pages and Filters Shelves-98
1. Columns-98
2. Rows-99
3. Pages-100
4. Filters-101
Enhance your visual appeal with the Marks card-103
1. Label-103
2. Text-104
3. Color-105
4. Size-107
5. Shape-108
6. Detail-109
The Summary Card—handy description of your data-112
Headers and Axes-113
Titles, Captions, Field Labels and Legends-115
Format values in your views-117
Chapter 6 pages
Use the controls to navigate. On touch-screens, you can swipe to navigate. Click on the slide to advance, click the four squares in the controls for the thumbnails to appear and click the four-way arrows for full-screen viewing. While in full-screen viewing mode, you can use the right/left arrow keys to advance/go back or simply swipe right and left on touch-screens. Use the ESC key or x in bottom control-bar to exit full-screen mode.
Chapter 5 is available here and Chapter 7 is on the way in the coming days.
Be sure to watch the videos that accompany this book:
Better Analytics with Tableau 8 Part 1
Better Analytics with Tableau 8 Part 2