November 18th, 2013
Stephen McDaniel
Chief Data Officer Advisor at Freakalytics, LLC
Finding it hard to make time to keep up with the rapidly changing world of data, data warehousing, analytics, data science, business intelligence and visual analytics? We understand! Here's our curated summary of relevant news that could help with your future data and analytic projects. We also add commentary on the topic, a summary of the article and the link to read the full article.
There are four articles in this update:
Amazon wades into big data streams with Kinesis
Top 10 Trends in Text Analytics
Effective Customer Analytics Call for Data Integration, Culture Shifts
Your Car Is a Data Platform, What Can It Tell About You?
Missed our last issue of Top News, November 15th? Stories included RapidMiner (free and premium data mining), big data not top CFO priority, the DATA Act passes Senate, SAS replacing PowerPoint and big data sources to consider at your company.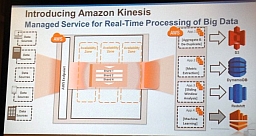 Amazon wades into big data streams with Kinesis

Amazon adds another layer to data storage and streaming options-Kinesis. Kinesis is all about real-time data collection and aggregation in a hosted cloud-scalable from Megabytes to Terabytes per hour! As such, it is a service that keeps your data for a maximum of 24 hours, by which time you presumably used it or stored it in a data warehouse (like Amazon Redshift), Hadoop system (like Amazon Elastic Map Reduce), NoSQL system (like Amazon Dynamo DB) or file store (like Amazon S3!) Do you notice a trend here?

Amazon appears determined to be the leading source of data and analytic infrastructure in the cloud, with incredible breadth and depth of offerings at one of the most competitive price points and scalability that's extremely impressive. A quick pricing of Kinesis shows that you could collect around 2 billion records per day with Kinesis for just $140/month!

Jumping on the "real-time" bandwagon, Amazon today announced Kinesis, a new stream processing service that aims to help make sense of high-volume data sources such as Twitter's "firehose," weblog data, financial data, and any other large data streams.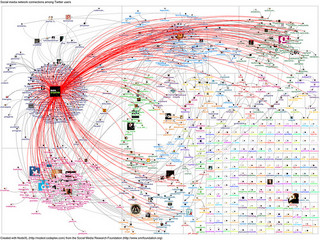 Top 10 Trends in Text Analytics
A quick look at changes coming in the future for text mining. Very few companies use text analytics on a wide basis, but many companies I work with could find great areas of application with a text analytics strategy in the coming years. Ideas include bringing together structured (standard data warehouse tables) and unstructured (text) data, built-in data visualization capabilities and analysis of streaming real-time text. People from this article will be presenting at a text mining conference next month in San Francisco. Companies mentioned include Home Depot, PayPal, Bank of America, United Airlines and United Health Group.
…text analytics trends that can be observed over the next 6-12 months.
1. Fusion of text (unstructured) data with structured data to achieve results that cannot be achieved by either data set alone. "A good example of this are cell phones that interpret ambiguous sounding names by referencing the structured contacts list". Dave Tomala, Sr. Director of Analytics – Knowledge Solutions, Express Scripts Inc
Network graph image above from Marc_Smith at Flickr under Creative Commons License.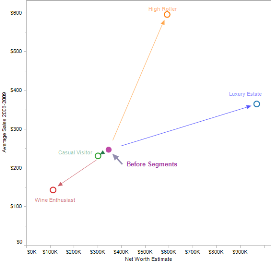 Effective Customer Analytics Call for
Data Integration, Culture Shifts
This article has several stories of the struggles encountered due to poor data integration (data silos), lack of data access since data was with third parties and even how siloed marketing programs reduces the potential impact of marketing spend. I have been fortunate to work at companies that put the customer at the center of marketing and have personally witnessed how program-centric approaches to data greatly reduced overall marketing ROI.
A closing story in the article relates how tying analytics and data investments to increased profitability is a key technique towards gaining executive support.
Brands in this article include GameStop, Oakley, Ray-Ban and American Airlines.
The company had lots of data from multiple brands, and because the data was outsourced, accessing the marketing or finance databases was not easy, said Maya May, senior director, retail optical CRM and loyalty at Luxottica Retail. There were also multiple vendors across brands and units and a "clear gap" of analytics talent. "We realized the vision of knowing our customers better needed a solid foundation," she said.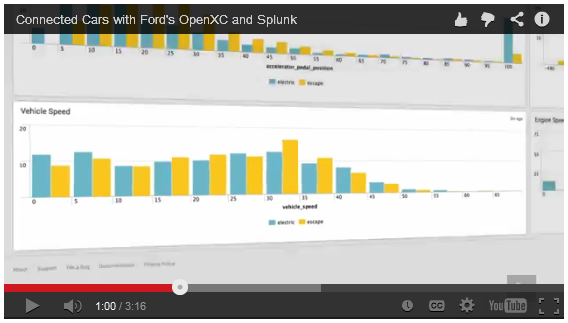 Your Car Is a Data Platform,
What Can It Tell About You?
Perhaps you have heard about personal analytics (like FitBit and Up for exercise), now your car can also offer up data about your driving habits, the cars performance and even help carmakers design better cars based on real-world driver feedback. Collaborative Car Dashboards is a partnership of Ford and Splunk being tested as a data platform. This article offers up some early insights into this program based on alpha-testing in San Francisco with an electric car and a conventional gas car. Some of the findings include that people accelerate harder in the electric cars from a stop and which test drivers wer more aggressive based on acceleration, braking and steering wheel behavior.
While I find this topic exciting, it's a bit unfortunate that several of the insights offered in the article could be viewed as a negative, even "big-brother" type of insights. This is especially true of the last finding, observing how the driving data could help police find good spots for setting speed traps. Perhaps streaming big data could become a source of speed trap warning, like the early days of CB radio? By the way, capabilities like this are now being added to smart phone apps like Waze, which even includes traffic volume, gas prices and potential speed traps. Perhaps Waze will hook into this data platform as well?
Regardless, car enthusiasts will definitely be into the system behind all of this, Open XC, which defines the data to be collected, hardware and software to use and the API.
… a software platform for real-time operational intelligence, that turns your car into a data platform. And a platform, for anyone who may need a refresher, is something that you can build applications on.
And, from OpenXC,
"OpenXC is a combination of open source hardware and software that lets you extend your vehicle with custom applications and pluggable modules. It uses standard, well-known tools to open up a wealth of data from the vehicle to developers.
OpenXC is an API to your car – by installing a small hardware module to read and translate metrics from a car's internal network, the data becomes accessible from most Android applications using the OpenXC library."






Follow Freakalytics on Twitter


RSS for Freakalytics.com


RSS for new course & webinar alerts
Subscribe to our newsletter