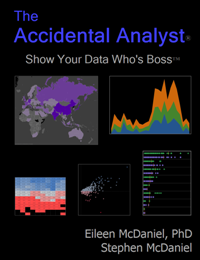 Order "The Accidental Analyst" at Amazon
Are you drowning in a sea of data? Would you like to take control of your data and analysis to quickly answer your business questions and make critical decisions? Do you want to confidently present results and solutions to your managers, colleagues, clients and the public? Are you a champion of analytics in your organization helping others learn how to analyze and make sense of their data?
If so, The Accidental Analyst: Show Your Data Who's Boss is for you! Although you didn't plan for a career as a data analyst, you're now in a position where you have to analyze data to be successful. Regardless of the software package that you use, we'll walk you through a clear, step-by-step framework using illustrated examples to help you understand and apply the analytic process to find answers to real-world questions. We call this flexible framework The Seven C's of Data Analysis.
Read this book for inspiration, ideas and confidence to begin tackling the problems you face at work. Keep it by your desk as a reference on how to organize, analyze and display your data. Throughout the book, we also include expert tips, tricks, and shortcuts that took years of analyzing data to discover and understand!
Order your copy of "The Accidental Analyst" at Amazon.
Reviews
"This is a wonderful book, filled with practical advice.
Business people who are struggling to make sense of their data
will find it accessible and directly applicable to their work-
a great resource for building analytical prowess."
Stephen Few
Best-selling author, "Show Me the Numbers" and "Now You See It"
"Finally, a book that clearly explains the fundamentals of business analytics!
I wish that I had this book at the start of my career as a data analyst."
Tim Latendress
Financial Analyst
"This book is an amazing resource for regular business people
who want to make sense of their data and take charge of their business!
It provides simple yet comprehensive coverage of business analytics."
Diego Saenz
President, Petplace and former CIO of Pepsi Latin America
"… the executive manual, like an Executive MBA" for knowledge workers…
Ted Cuzzillo, DataDoodle
The Data Warehouse Institute, BI This Week Newsletter
One of the "8 great books about data visualisation".
Andy Cotgreave
The official Tableau Software blog, July, 2013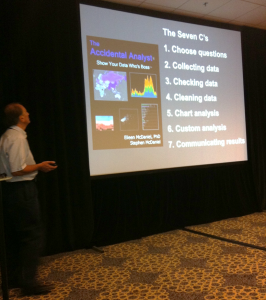 In his only talk at the 2012 Tableau World Conference, Pat Hanrahan discussed our book, The Accidental Analyst, as a foundation of his presentation. He said our book changed how he thought about analytics and inspired him to change his approach to teaching courses at Stanford.
Pat Hanrahan, PhD
Canon USA Professor at Stanford University
Co-founder of Tableau and Pixar
Pat has two Academy Awards
Share the power of R shiny apps across the entire team with YakData
Subscribe and keep in touch with us!