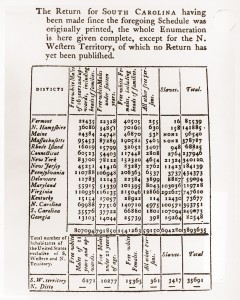 NOTE: This fun review of "big data" was inspired by a recent presentation I gave on behalf of Tableau Software at the Big Data Conference in Chicago. You can find the 1st part of this 3 part webcast here, "Performance to Cost Index & my personal history with "Big Data". Part 3 is here, "Big Data" on your laptop, fast, informative and at your command.
In this presentation, I share a review of the original big data in US history, the 1790 US Census. Some surprises are found along the way, including data quality issues in the Census reports and a surprising number of US states with more men than women, in spite of the heavy losses in The American Revolutionary War!
NOTE: some people may experience problems viewing this webcast in Internet Explorer. If this occurs, we recommend Firefox or Chrome to watch the video. The alternative is to see if your Flash Player is properly installed (sorry, we are unable to help diagnose IE video problems beyond this shared link.)
Share the power of R shiny apps across the entire team with YakData
Subscribe and keep in touch with us!