Thank you for your interest in our newsletter. Please share it with your colleagues and friends that you think can benefit from it.

We are happy to share some great news, Eileen is close to the final release of our upcoming book, "The Accidental Analyst"! Look for training opportunities around the Accidental Analysts soon! Also, if you pre-ordered this book, you will need to reorder it on Amazon in the coming weeks due to changes in the publication channel.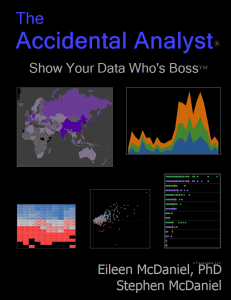 Even more great news, in addition to continuing to teach our in-person Tableau training seminars, Stephen has recently joined Tableau Software as Director of Analytic Product Management. In his role at Tableau, he will help shape the future direction of their products over the coming years.
We always enjoy hearing your thoughts, feedback and ideas- please drop us a line sometime.
Best regards,
Stephen McDaniel and Eileen McDaniel, PhD
Freakalytics, LLC

Complete Tableau Training in Palo Alto California, June 2012
   Rapid Graphs and Data Analysis with Tableau– Days 1 & 2
   Dashboard Design and Advanced Mapping with Tableau– Day 3
   Data Preparation and Management for Tableau– Day 4
Rapid Graphs with Tableau Software 7 on Amazon, Kindle and Barnes and Noble Nook

Top Freakalytics articles of 2012

In case you have been too busy to keep up with us on the web site, here are the top 5 articles of early 2012. Enjoy!
   1) Bullet charts and simple enhancements to maximize value
   2) Quick and dirty analysis with Tableau 6 (in thirteen lucky steps)
   3) Quick tutorial on reference lines, bands and distributions
   4) A dashboard to select high-quality stocks with high yield and low volatility
   5) The growth of the US Deficit relative to GDP since President Nixon. Which Presidents managed it best?
Our quick reference for building better graphs and dashboards

   Preview it here, available on Android and iPhone, or buy the laminated version at Amazon (out of stock, but more on the way!)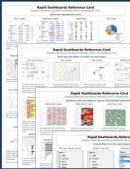 Subscribe to our newsletter Prior editions 13Feb 12Aug 12May
Share the power of R shiny apps across the entire team with YakData
Subscribe and keep in touch with us!