December 30th, 2013
Stephen McDaniel
Chief Data Officer Advisor at Freakalytics, LLC
Finding it hard to make time to keep up with the rapidly changing world of data, data warehousing, analytics, data science, business intelligence and visual analytics? We understand! Here's our curated summary of relevant news that could help with your future data and analytic projects. We also add commentary on the topic, a summary of the article (in orange) and the link to read the full article.
There are four articles in this update:
Why Do Forecasters Keep Forecasting?
2014 BI Outlook: Who's Hot, Who's Not
Where do you sound like you're from? (How Y'all, Youse and You Guys Talk)
Aided by Data Analytics, Internal Auditors Dig Deep







Why Do Forecasters Keep Forecasting?
I found this article quite interesting, a wide range of investment advisors missed the forecast for the growth of the S&P stock market index in 2013, all of them by a huge amount (a range of being off by -53% to -109%)!  This shows how incredibly difficult forecasting even one year out can be, in spite of these companies having entire teams of experts constantly studying every machination of the underlying data that affects the stock market including economic factors, political climate   and more. In fact, if forecasters at many retailers were off by so much on their overall company sales growth forecasts, they would likely be sacked or at least pummeled with a bag of oranges in the garage one dark evening!
Why is this article so important? Because there has been tremendous hype around the power of predictive analytics to steer the business. The reality is that forecasting is an incredibly hard job, regardless of the overall intelligence, toolset, access to data and experience of the team. Does this mean we should give up on forecasting and using advanced methods to predict future outcomes and behaviors? No! However, it does imply that forecasting should be fluid and adjusted, sometimes rapidly, in response to changing external factors.
All of this begs the question, how can someone do this? In my opinion, it points back to visual analytics, dedicated teams of business analysts with clear missions and good data management and warehouse practices with an agile approach, so that major misses can be caught, reviewed and corrected mid-course.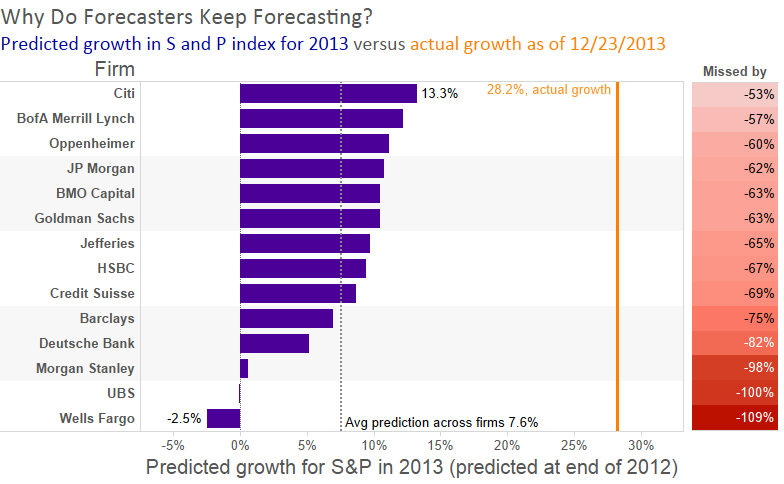 I created my own summary dashboard of the growth forecasts (image above.) Imagine if you were a client of these firms and you were told in late 2012 that stocks would lose money in 2013 (Wells Fargo and UBS), so you buried it all back into low-yield bonds! In the words of Warren Buffett, "Buy when everyone else is selling."